Other Products to Compliment
LED Uplighters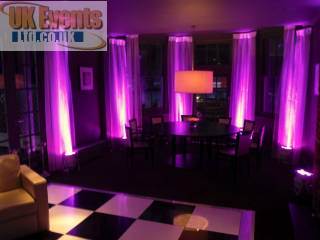 Room Lighting
Room lighting is a very effective way of adding depth and class to a room. Vibrant colours can enhance the overall look of a function area.
Colour Changing Tables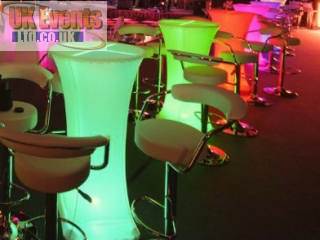 Poseur Tables
Our poseur tables can be set to almost any colour you like. You can set the tables to automatically change colour for extra effect.
Colour Changing Cube Tables/Seats
LED Cubes
Colour changing cubes can be used as a table or seat and like the poseur tables, can change colour for the duration of the event.
Pure Black Dance Floors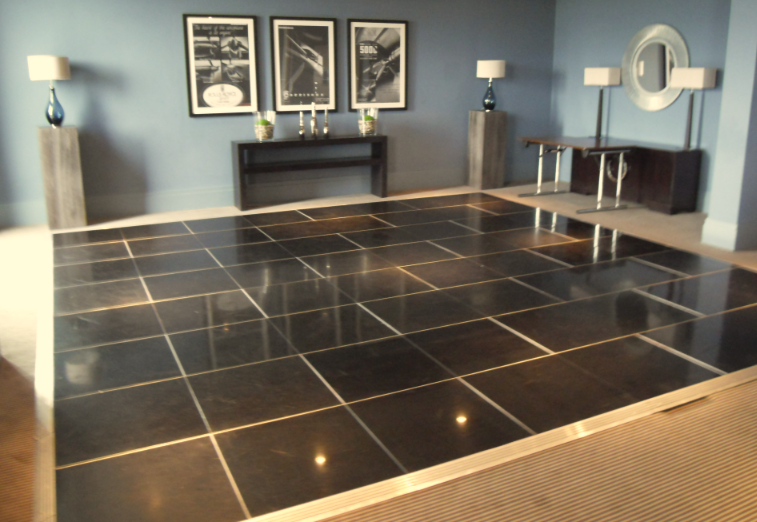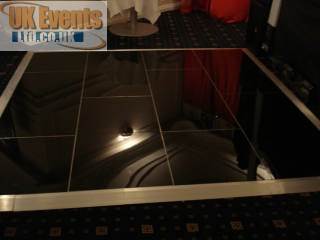 Black Dance Floor Hire.

The plain black portable dance floor is a great choice for private parties and corporate functions.
The black dancefloor comes in 4ft x 2ft sections and can be made to any size you require as long as it is in 2ft steps
As you can see with the photo to the left, the black floor compliments the black and white theme. The floor adds class to the room and most importantly becomes the main focal point.
When booking a dance floor through UK Events, make sure you ask about our add-on services. These are designed to work alongside our dance floor range. We can offer LED uplighters, a disco, a karaoke or event black or white star cloths to be used as a backdrop.
We also provide the black dance floor in the starlit range. The black starlit dance floor has lots of little bright LED lights which twinkle during the dancing. The starlight dance floors are our most popular dance floors hired from our range of 11 different styles of flooring.